Chinese Astrology – Compatibility Sheep or Goat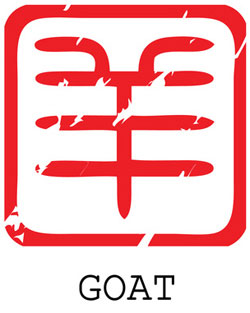 Those born under the sign of the Sheep or Goat are kind, loving people who are enjoyed by all. Goats are generally the most creative of all the signs of the Chinese zodiac and are heavily in tune with nature. Because of their charms, gentle mannerisms and warm hearts Goat signs are well loved by those they meet.
The Goat is an insecure person, often needing extra re-affirmations of love and security to feel protected. Goat signs are incredibly shy and will do anything to avoid confrontation, including refusing to stand up for personal beliefs if they go against the grain in a social conflict situation.
Goats are known to be dreamers and are often indecisive and disorganized. They are drawn to the mysterious side of life such as tarot and fortune reading. While clever, business is not a strong suit for the Goat and they will typically choose to migrate their talents to more artistic endeavors instead. more about the Chinese Sheep



Sheep and Rat



Sheep and Ox



Sheep and Tiger



Sheep and Rabbit



Sheep and Dragon



Sheep and Snake



Sheep and Horse



Sheep and Sheep



Sheep and Monkey



Sheep and Rooster



Sheep and Dog



Sheep and Pig