Chinese Astrology – Compatibility Snake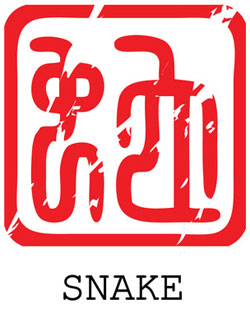 The Snake is the great seducer of the human race. The most popular and charming individuals are those born under this Chinese sign. Snakes are masters of interpersonal skills such as manners, speech and social etiquette. Never without a spotlight, the Snake is always has someone's attention and public recognition.
Snakes are quick to make decisions and do so deliberately. They will think each decision through with great care and rely strongly on their gut feelings of others to form opinions. As intellectuals, Snake signs are often deep thinkers and philosophers, often humanitarian in some form.
Of course, the Chinese Snake is well known for deception. The Snake feels more than comfortable telling large and small lie alike. This may be to continue a personal perception that the Snake is thriving upon or to avoid any embarrassing situations.
more about the Chinese Snake


Snake and Rat



Snake and Ox



Snake and Tiger



Snake and Rabbit



Snake and Dragon



Snake and Snake



Snake and Horse



Snake and Sheep



Snake and Monkey



Snake and Rooster



Snake and Dog



Snake and Pig